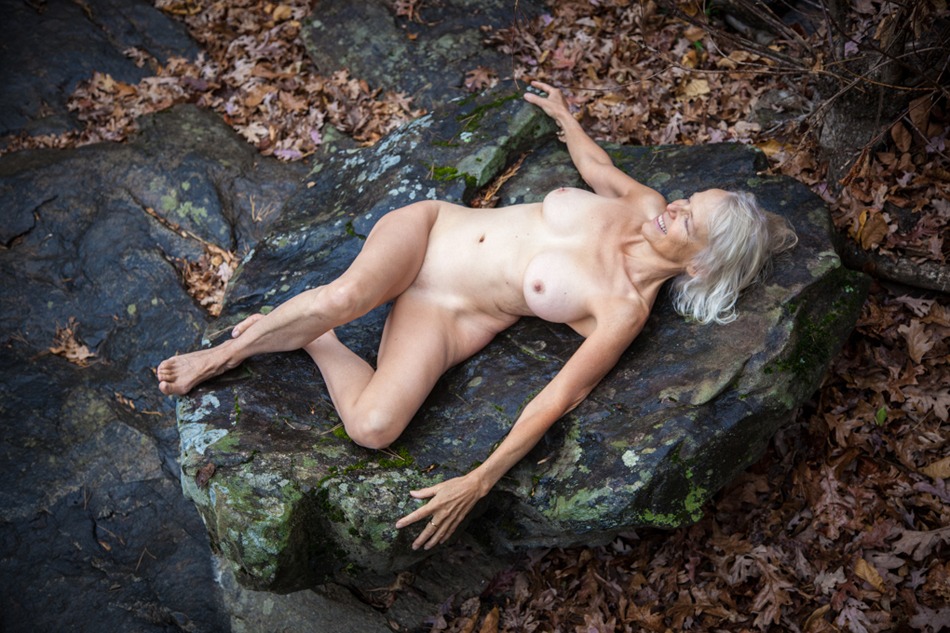 My New Eros
Skin, stone, leaf, river, rain.
I came longing for deciduous leaves.
I pictured myself naked
among lush foliations of green.
I came craving succulence.
But now the summer has passed.
It's autumn. And so am I.
I embrace my season.
My autumn body. My new eros.
Soft, warm, flesh melts
into cold, hard stone.
A fine drizzle needles my skin.
Tiny gnats whirl and tangle in the overcast sky above me.
The river flows below.
And leaves rattle their last song
before the trees send them on their way.
Skin, stone, leaf, river, rain.
Here, I let go of what once mattered,
of things that younger bodies dream of
and older bodies fear.
No longer motivated by the chemistries
of seeking lovers,
nor a catalogue of aches and ailments
sailing in the winds of entropy.
I am receptive, absorbent
embracing each season
with its own delights and dangers.
I am a lover of this delicious world.
My new eros.
Once again
I am like a child
before she steps outside of herself,
leaving her feeling-body behind,
observing how she looks to others.
As if her shape alone would determine her happiness
in the world.The child is happy
to toss off her clothes
and lay down on the ground,
even if it's cold.
Happy to feel the breeze on her skin,
the wet leaves sticking to her back,
her hair all tangled,
blood flowing through her veins,
coming to meet the chill.
Her heart pulsing with the terrain around her.
Laying naked on the earth
I delight in this body,
my own configuration of matter
embraced by stone, softened by leaves, chilled by drizzle,
and celebrate the coming season.
Skin, stone, leaf, river, rain.
My new eros.