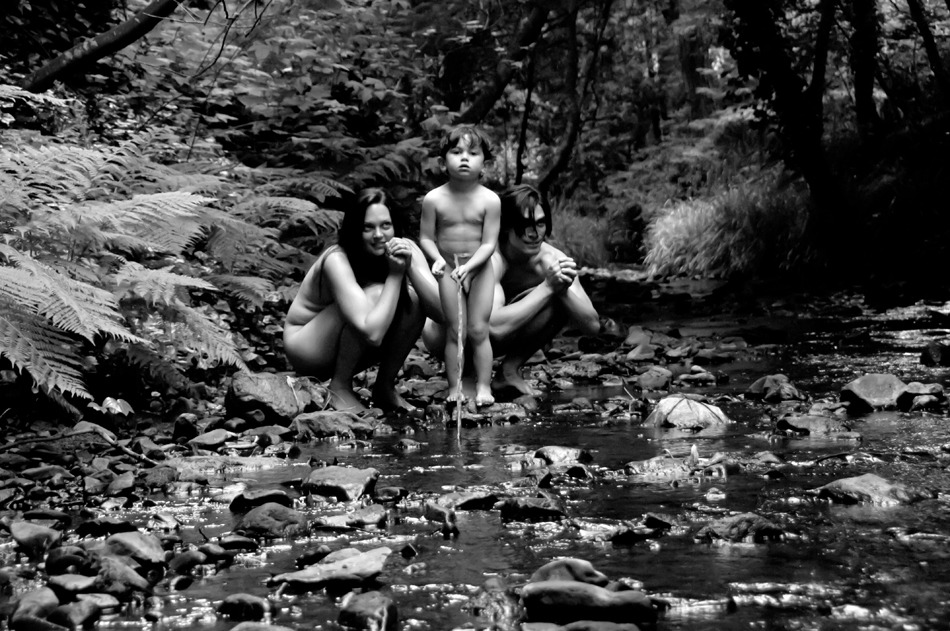 I didn't feel as though I had any major concerns or issues to overcome in connection with being nude for the camera. It is curious to respond that way, as I still had reservations and concerns about doing it in a place where people other than my family and Erica, the photographer and my dear friend, could see us.  I think I am comforted by being naked with my own family – and having posed nude for Erica before, it was not that big of a deal for me to do it again.
The intricacies arise when there are strangers, or worse, people that we know but are not close to us might see us. Given that we shot this on our own property, in the creek next to the road that is frequented by neighbors and other people on foot, there was a good chance we were going to be spotted by someone we know before long.  For that reason we were quick and stealth and full of giggles for the naughtiness of it all.
Why is that?  Why that spectrum of being OK with the people closest to me – and those farthest from me, but not with those in between?  Perhaps it is because I am conscious of social norms and expectations.  In our society it is expected and "proper" – socially expected – that we are clothed in public. It is how I was raised and the way I have always known.  I know it is OK to be in the nude with my immediate family and closest friends… and I don't really care about the consequences of being seen by a complete stranger as I will never see the viewer again…. It is the seeing the mother of our son's preschool friend… or the new neighbor…. or the mailman – people who will wonder and encounter me and my fumbling embarrassment in the future, that I want to avoid.  Interesting.
I have enjoyed nudity in a range of  "public" contexts since my late teens.  When I was nineteen, a girlfriend and I frequented a nude beach up in Lake Tahoe many times over a summer. We would make the three hour drive just to get to that roadside, trek down the rocky hill, and onto a beach where it was expected that all present were nude.  We never spoke with anybody – in fact – we were careful to avoid inviting eye contact or conversation of any kind.  The anonymity was a critical part of the experience and the draw for us.  It felt at the time like we were conquering a fear, rebelling against a norm (perhaps our parents too), and connecting with our bodies and nature in a new and liberating way.
Similarly, I have been to numerous retreats in the last decade or so where nudity was a completely natural and expected part of the day – typically bathing in quasi-public areas.  One retreat in particular was all about the nudity. People spent the entire day in the buff – swimming, eating, drinking, playing games.  It was amusing and fun to be part of this experience outside of the social norm.
I remember hearing from a friend of the "horror" he experienced at this same retreat when he bumped into a co-worker, naked!  Odd how we can spend two days tromping around naked with a couple of hundred strangers, but the minute we see someone we know – an acquaintance, co-worker or neighbor unexpectedly and fully "exposed" the entire experience quickly evolves into one of embarrassment and fear.  How do you say hi?  Do you hug?  What if your parts touch without clothes in between?  Will they tell others?  Will they think I am crazy?  Compounding the oddity of this particular story, they were BOTH naked and BOTH feeling equally vulnerable… yet this did nothing to neutralize the impact.
We have been asked to select one or both of the two best pictures that came of our creek side shoot at our home.  One is of us standing with full frontal head to toe exposure, one captures a moment when my husband and I crouched down in an effort to hide knowing that a pedestrian was crossing the bridge just overhead.  Our expressions and matching postures show our giddy concern for being spotted while our precious son, unaware of social norms and expectations, continues to splash in the water with a stick.
I am comfortable with my body – I love my body!  She has carried me thus far through a remarkable life… tree climbs and ocean dives… travels across dozens of countries to breathe the air and enjoy the gifts of many lands and people. She has experienced, with me, love and loss… comfort and challenge… sickness and health… she has trekked atop mountains and swam in rivers and lakes… she miraculously helped to form and nurture our beautiful son to birth… made it possible for me to nurse him for a year into his precious young life….and just days after these photos were taken, yet again miraculously played a role in conceiving a to-be-born young sibling for our son.  Why hide her?  I am not shy of her imperfections… it is that nudity is associated with intimacy and vulnerability to me.
This experience, though initially seemingly benign and inconsequential, and having to work through my feelings about the photos and being seen in the nude during or as a result of the shoot, has made me more aware, more conscious, of this sense of intimacy and vulnerability in myself.  I don't think I was consciously aware of it until this moment, actually.  Even more profound for me is the realization that it is not something to conquer, but something to know, to accept, and in my case, to honor.
I am a strong and accomplished woman in many ways.  My delicacies and vulnerabilities are more like treasures to honor than weaknesses to overcome.  They make me human, and feminine in a way.  I honor them as I would honor any other trait in a fellow human.  It is the many nooks and crannies along the tapestries of our own lives… the vulnerabilities and tenderness that exist in each of us that makes us whole, complete, beautiful.
So, in honor of that realization, I honor my own and know that this awareness and consciousness will continue to shape me as a mother, a wife, a friend, a daughter, a sister, a teacher, and a subject.   It is my hope that this awakening and the single photo we are comfortable sharing is the type of magic and opening that you strive to achieve with your great work in bringing The Body Project to fruition.