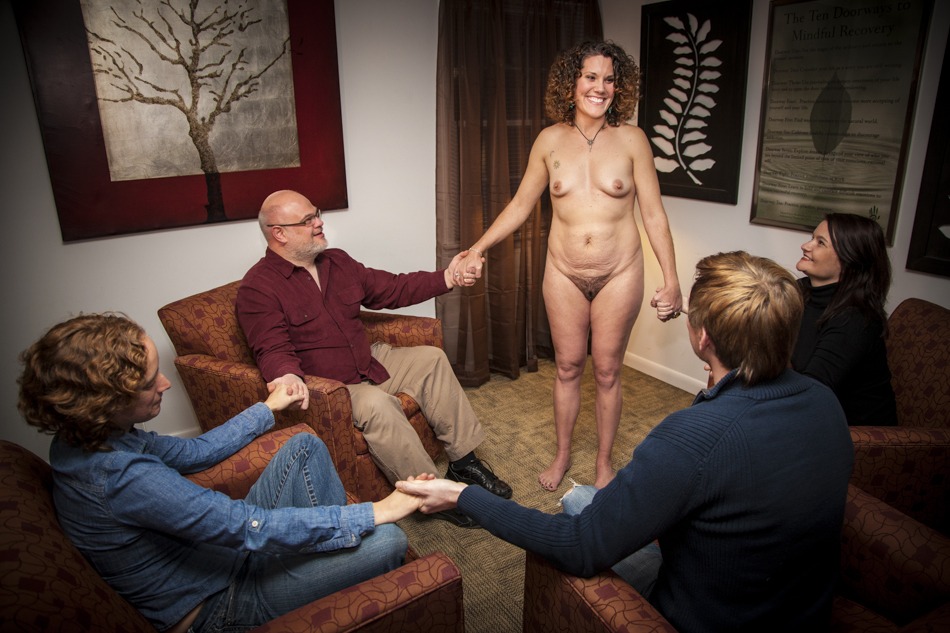 Throughout the process of preparing and being photographed for The Embody Project, I experienced waves of emotions.
I was mostly excited, confident, and joyous– positive that I had made the right choice in saying Yes to the opportunity to be my full Self: powerfully vulnerable and vulnerably powerful. Yet, I also had moments of being nervous, ambivalent, and insecure. I have come to know that feeling the knife-edge of fear is often my indicator that I am on the right path—that I am about to step across a threshold into a larger version of ME.
Talking with Erica initially to discuss setting, I had a vision of standing in front of a small group of people. My work as a speaker on the topics of sexuality and spirituality is growing and evolving. I feel as if I am in the doorway about to step into a larger, more visible role. I spoke with Erica and felt my emotions rise and tears begin. I envisioned myself surrounded by friends, people who love and support me. Some had seen me physically naked before, some had seen me emotionally naked. I wanted to show up as both…completely myself.
To be embodied means I get to enjoy all the sensations of this body because that is how my spirit comes alive. My work, both personal and professional, for the past 10 years or so has been about embracing my sexuality and my spirituality and encouraging others to do the same. My connection to Source Energy (aka Goddess, The Universe, God, Oneness) is vital for me to feel good about my body. Ego gets in the way about what looks good, but can be circumvented by remembering all the pleasures that happen because I have a body.
As we began shooting, being able to tell each person why they were important to me, why I had invited them to join me, how much I cared for each one, was very powerful. Just as powerful was the ability to receive their loving comments and compliments about me. Hearing that I make a difference, that I am living the life I have envisioned—one of caring, non-judgement, and celebration of others—I could almost forget I was physically naked.
I was able to share my internal dialogue of "too many stretch marks", "unsightly clothing lines" etc. All the comments that have run through my head about "not good enough" throughout my life reared up, and all it took to quiet them was realizing that these people were saying YES to supporting me when I asked. They were and are willing to love me just as I am, to acknowledge my growth over time, and to cheer me on in moving into greater visibility in my work and my life.
I know I am powerful. I know I am vulnerable. Being both is what makes this Human experience a Divine gift. Being able to share and show all of my Self in this way lets me know that I am ready to accept all of the adventure and joy that is here for me.