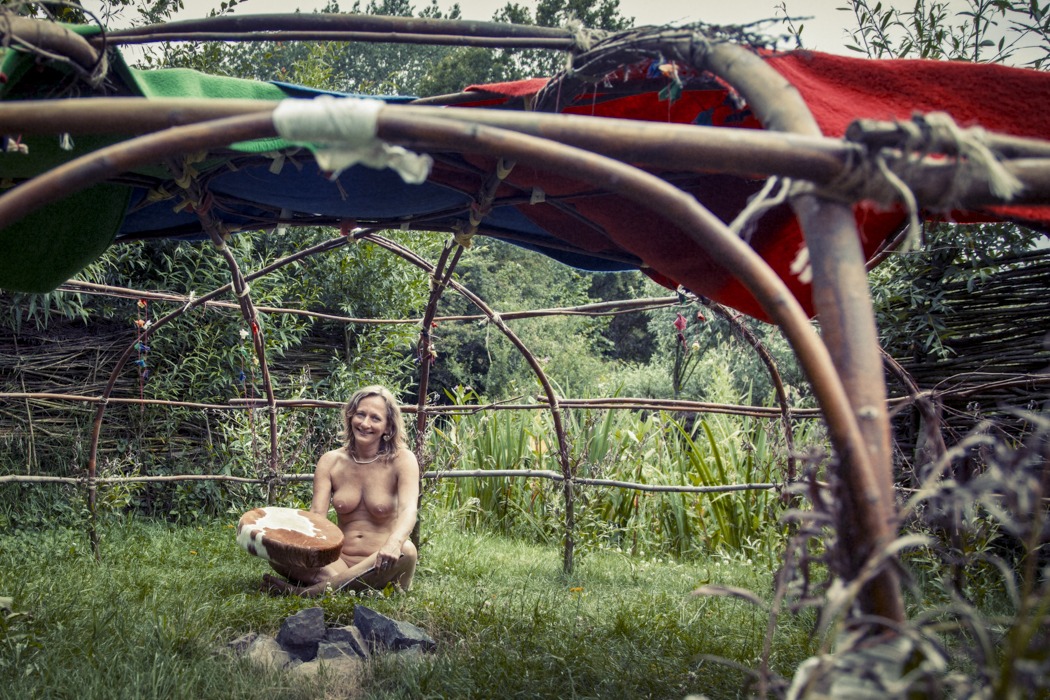 When I first met the Embody Project about a year ago I felt atrracted to it from the very first moment. Without giving any thoughts about it I knew I wanted to participate. Posing in front of a photographer made me freeze anyway, wonder how that is being naked! I really wished to face that challenge.
In the weeks prior to the Project and during the beautiful workshop I became aware more and more of the fact that most of my life I have not been very present in my body. Or put in other words: I had a kind of Love-Hate- relation with my physical body. Whereas I always thought of myself being earthed.
I realized that I, although I also felt a kind of content with my looks and the shape of my body, also carried along my journey some reluctance and anger against it. That's probably why it burned from inside out through eczema which flames up from time to time.
In the weekend prior to the shoot I accompanied together with other women a sweatlodge ceremony and after the ceremony I was lying down on mother Earth and then I knew this was the place for my shoot. Afterwards I started hesitating again because to me this is a sacred ceremony. Just before the shoot Erica and I explored other possibilities for me, but then I knew the sweatlodge really was my place to give expression to my embodiment.
And there, right on the spot, during preparation and finally the shoot itself, I started to realize what made exactly this place so essential for me expressing my process of Embodiment. By being so open and vulnerable herself Erica gave me such a deep sense of safety and allowance just to be Me totally and utterly! I shared with her the knowledge that the sweatlodge stands symbol for the womb……and then all of a sudden everything came together in a way I never expected!
As long as I can remember, I never felt home or really safe anywhere or with another person. All my life I felt kind of lost on a spot and in a body where I actually did not want to be.
Just there, in that moment, in the womb of Mother Earth, I really felt to the bone and in every cell of my body, how it feels to be Me, to be NOW, in this very moment in the Here and Now. Totally and fully present in this beautiful body of mine. And that I can allow myself to enjoy it.
A true Rebirth!! And a nice starting point for the second half of my Life;))
Toen ik voor het eerst hoorde van het Embody Project, was ik er meteen door gefascineerd. Ik heb me dan ook zonder nadenken aangemeld als deelnemer. Poseren voor een fotograaf veroorzaakte in mij altijd spanning, laat staan naakt! Die uitdaging wil ik wel aangaan!
In de weken voorafgaand aan het project en tijdens de workshop werd ik mij meer en meer bewust van het feit dat ik eigenlijk heel lang weinig contact had met mijn lijf. Of anders verwoord: ik had er een soort haat-liefde-verhouding mee….. En dat terwijl ik het gevoel had redelijk geaard te zijn,
Ik realiseerde mij dat ik, hoewel ik ergens wel een soort van tevredenheid had over mijn Looks en de bouw van mijn lijf, ook altijd een soort van aversie en boosheid meedroeg jegens datzelfde lijf. Wat zich hoogstwaarschijnlijk naar buiten brandde in de vorm van eczeem dat in periodes flink kan ontvlammen.
In het weekend voor de shoot deed ik met een aantal vrouwen een zweethut en toen ik na afloop van de hut nog even op de aarde lag, wist ik dat dit voor mij de plek was om de foto's te maken! In de dagen daarna ben ik daarover gaan twijfelen omdat de zweethut voor mij een heilige ceremonie is. Kort van tevoren heb ik nog met Erica andere mogelijkheden geëxploreerd, maar ik bleef bij de zweethut.
En daar, op de plek, tijdens de voorbereidingen en de uiteindelijke shoot, begon ik pas te beseffen waarom juist die plek voor mij essentieel was in mijn proces van belichaming. Erica gaf me tijdens het schieten van de foto's door haar eigen kwetsbaarheid en openheid een diep gevoel van veiligheid en er Helemaal mogen zijn! Ik deelde met haar dat de hut symbool staat voor de baarmoeder……. en toen viel er ineens heel veel op zijn plek !
Zo lang als ik mij herinner, heb ik mij nooit ergens of bij iemand thuis gevoeld. Ik voelde me altijd een soort van verdwaald op een plek en in een lijf waar ik niet wilde zijn. En daar, op dat moment, in de baarmoeder van moeder aarde, kon ik in al mijn cellen voelen hoe het voelt om Mij, NU, op dit moment, Hier en Nu te zijn. Helemaal en volledig aanwezig in mijn prachtige Lichaam. En dat ik daarvan kan en mag genieten.
Een ware Wedergeboorte!!! En een mooi vertrekpunt voor de tweede helft van mijn leven.