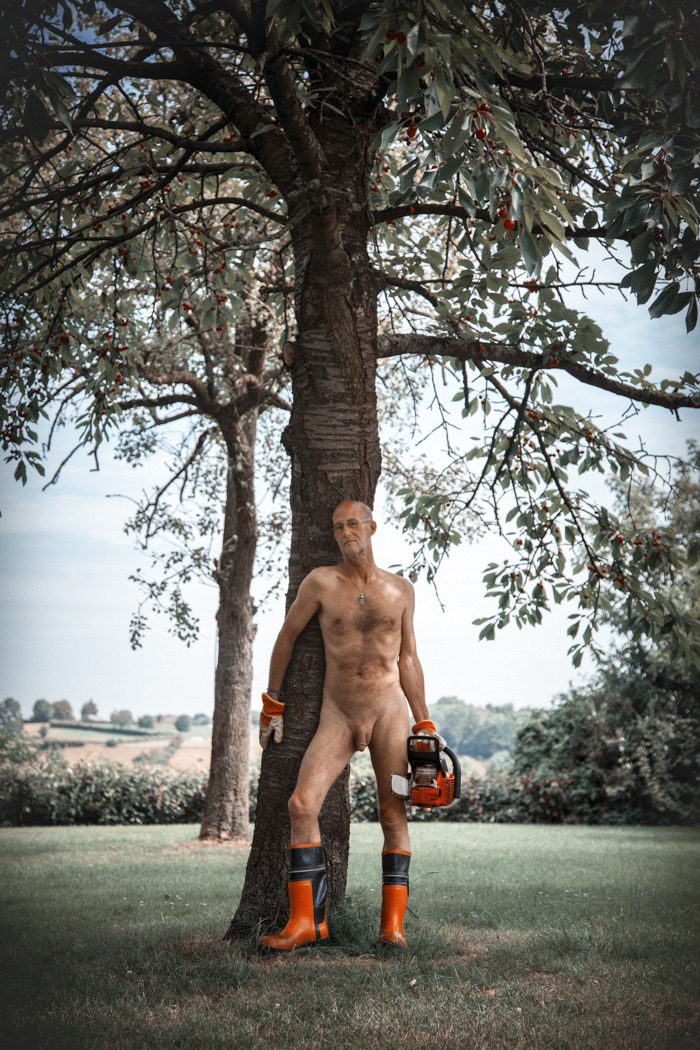 When the Embody Project came along, I was struck immediately. It was awesome. As an amateur photographer I really like the photographs. As a naturist I like to be naked whenever and wherever possible. Without clothes we are all equal. Common nudity might well be the key to the transformation of the world into the new era. Imagine…
My feminine side has prevailed for many years, because I never learned how to develop my masculine side. Working with the chainsaw brought a big change, it triggered something in me. So aside of being in nature, dancing naked, and caring, I learned action, courage, and yes, killing (trees) like a primordial hunter.
Showing both aspects as a participant in the project is quite healing. Like the Yin & Yang symbol the contrast shows in the picture: the destroying (yet wood and fire providing) power of the chainsaw and the subtlety and vulnerability of life.
There is consciousness, awareness. Consciousness creates matter. It creates life because it wants to collect experience in matter. Our body is an interface between consciousness and matter. Through our five physical senses information is passed from matter to consciousness.
There is a flow in the opposite direction too: information from consciousness into matter. It's called intuition.
This is one of the reasons why our body is so special. Let's stop hiding it, let's start honouring it again.
Being naked helps me celebrate sexuality, the ultimate creative, life-giving energy. Being naked unites me with nature the natural way, the sexual way. So what a pity that we have to hide the beauty of our body too often, because of the beliefs of too many people.
It is my sincere wish that these beliefs may be gone one day, and that we can celebrate nakedness again, any time, anywhere.
Namasté.
Vanaf het eerste moment heeft het Embody Project me geraakt. Het raakt me als amateurfotograaf. Het raakt me als enthousiast naturist. Zonder kleding zijn we allemaal gelijk. En gemeenschappelijke naaktheid zou wel eens de sleutel kunnen zijn tot de overgang naar de nieuwe tijd. Stel je toch eens voor…
Lange tijd heeft mijn vrouwelijke kant gedomineerd, omdat ik nooit geleerd heb hoe ik mijn mannelijke kant kon ontwikkelen. Maar het werken met de motorzaag heeft een grote verandering teweeg gebracht, het maakte iets in me los. Dus naast het in de natuur zijn, naakt dansen, verzorgen, heb ik kennis gemaakt met actie, moed, en zelfs doden (van bomen), als een oerkrijger.
Het was erg helend om deze beide kanten te tonen in de sessie met Erica. Als een Yin & Yang symbool staat het contrast in de foto: De vernietigende (maar uiteindelijk hout en warmte voortbrengende) kracht van de kettingzaag en de subtiliteit en kwetsbaarheid van het leven.
Er is bewustzijn. Bewustzijn creëert materie. Het creëert leven omdat het ervaring wil opdoen in de materie. Ons lichaam is het raakvlak tussen bewustzijn en materie. Via onze zintuigen sturen we informatie door van materie naar bewustzijn.
Er is ook een tegengestelde stroom: de informatie die van bewustzijn naar materie gaat. Dat is intuïtie.
Dit is een van de redenen waarom ons lichaam zo bijzonder is. Laten we het niet meer verstoppen, laten we het in ere herstellen.
Naakt zijn versterkt voor mij het eren van de seksualiteit, de ultieme creatieve en levenbrengende energie. Naakt zijn verbindt me met de natuur, op natuurlijke – seksuele – wijze. Wat is het toch jammer dat we de schoonheid van ons lichaam zo vaak moeten verbergen, alleen maar door 'het geloof' van zovele mensen.
Het is mijn diepe wens dat 'dat geloof' op een dag verdwenen is, en dat we weer onze naaktheid kunnen en mogen vieren. Altijd en overal.
Namasté.