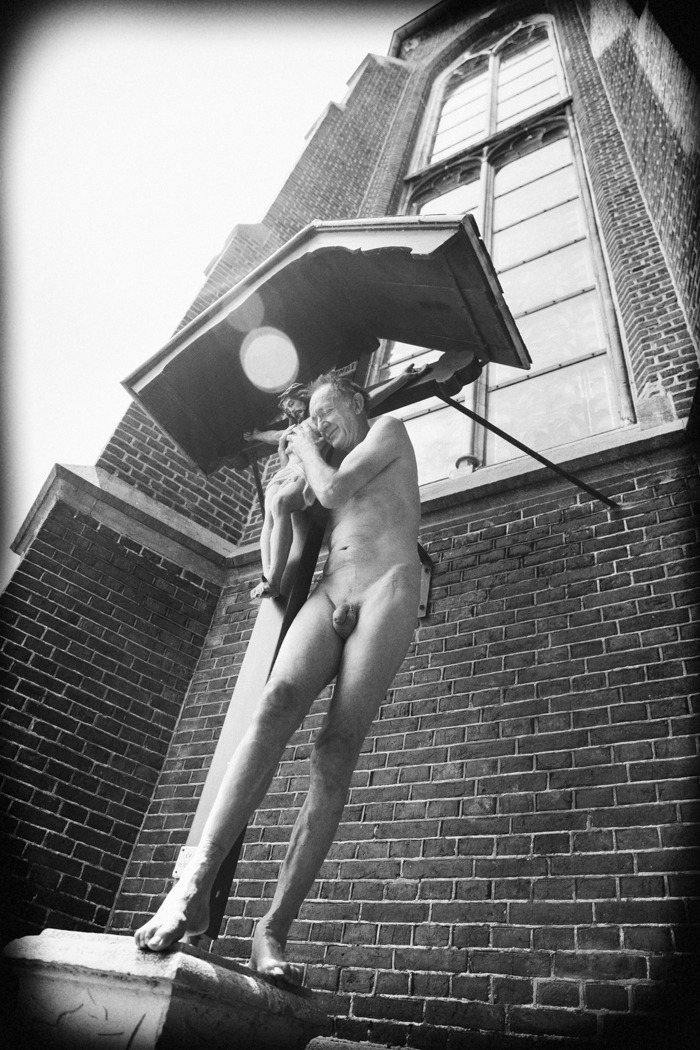 When this project crossed my attention on Facebook I immediately knew that I wanted to participate. I had no idea where and under what conditions the photo had to be made. I trusted the universe that in time my intuition would "know" this.
On the morning of the photo shoot I still had no idea. My lover and I were driving  around through the hills of South Limburg in the Netherlands when we reached a church in a small village. In front of the Church was a big cross of Jesus Christ the symbol of the Catholic Church.
I was raised in a Catholic family and went to a Catholic boarding school where the "faith" was hammered in. I HAD to believe and I didn't know how. The man on the cross was for me a symbol of suffering, pain and death. How could I believe that this man could save me from my sins. What sins? What did I do wrong? I was just a kid living my life. I grew up with a hate-love feeling about this man on the cross. How could he practice love and at the same time there is so much suffering?
Later came a time in my life where I totally abandoned Jesus, God and the Church.
During a tantra training that I followed years later I discovered that my belief was that God had left me. That there was no God.
After that slowly my interest came back and I began to read more and more. I read books on the life of Jesus, the Bible, and other books about the early history of Christianity.
And there I was standing in front of the church under the cross looking up to this man Jesus. Seeing his face reflecting pain, his arms wide apart. This was  my symbol of death, pain and suffering.
And there with the support of Erica I climbed up the base of the cross, upwards. I was standing there at the same height as Jesus, naked side by side. I looked him in the eyes feeling his presence, felt what was going through him when he was hanging there. Hearing one of his last words "Father, forgive them for they know not what they do."
I could feel that the suffering—my suffering—was ending here now at this place standing next to Jesus, and he transformed into a symbol of joy and life. I felt my love for him and mankind and his infinite love.
Standing there; alone, naked, vulnerable and high above the ground, I looked down and felt what he felt when he was hanging there at the cross. It was no crucifixion. It was a transformation. A transformation into a different dimension from death and hate to life and love. Forgiveness for everything that happened, a total surrender to the now, this moment.
My heart flooded with love. It was an epiphany, a profound experience. My lover Delilah and the beautiful loving couple Erica and Daniel stood under the cross. Just as in those days: his mother Mary, his lover Mary-Magdalene and his favorite apostle John.
And so I took a further step in the process of truly accepting myself and realizing that I am part of God.
Toen dit project voorbij kwam op Face Book wist ik onmiddellijk dat ik hieraan mee wilde doen. Ik had nog geen idee waar en onder welke omstandigheden de foto gemaakt zou moeten worden. Ik had vertrouwen in het universum dat mijn intuitie het op tijd zou "weten".
De morgen dat de foto genomen zou worden hadi ik nog steeds geen idee. Samen met mijn geliefde reed ik rond door de heuvels van Zuid-Limburg. We kwam aan in een klein dorpje. Voor de kerk stond een groot kruis met Jezus Christus, het symbool van de Katholieke Kerk.
Ik ben opgegroeid in een Katholiek gezin en ging naar een Katholieke kostschool waar het "geloof" er ingehamerd werd.  Ik MOEST geloven en ik wist niet hoe? De man aan het kruis was voor mij een symbool van lijden, pijn en dood.
Op welke manier moest ik geloven dat deze man mij zou bevrijden van mijn zonden.
Welke zonden? Wat had ik verkeerd gedaan? Ik was maar een kind. Ik groeide op met een haat-liefde gevoel voor deze man aan het kruis. Hoe was het mogelijk dat hij liefde uitdroeg en dat er tegelijkertijd zoveel lijden is?
Later kwam er een tijd in mijn leven waarin ik Jezus, God en de Kerk totaal verliet. Tijdens mijn tantra training, die ik jaren later volgde, kwam ik er achter dat God me verlaten had. God bestaat niet.
Hierna kwam mijn interesse terug en begon ik boeken te lezen over het leven van Jezus, de Bijbel en andere boeken over het begin van het Christendom.
En daar stond ik dan, voor de kerk onder het kruis opkijkend naar Jezus aan het kruis. Ik zag zijn gezicht dat pijn uitstraalde, zijn armen wijd uit elkaar. Dit was mijn symbool van dood, pijn en lijden.
En toen, met hulp van Erica, klom ik op de basis van het kruis. Ik stond daar op dezelfde hoogte als Jezus, naakt naast elkaar. Ik keek hem in de ogen en voelde zijn aanwezigheid, ik voelde waar hij doorheen gegaan was toen hij daar hing. Ik hoorde een van zijn laatste woorden " Vader vergeef ze, ze weten niet wat ze doen"
Ik voelde dat het lijden, mijn lijden, hier stopte. Hier op deze plaats staande naast Jezus. Hij transformeerde in een symbool van plezier en leven. Ik voelde mijn liefde voor hem en de mensheid en zijn oneindige liefde.
Ik stond daar, alleen, naakt, kwetsbaar en hoog boven de grond. Ik keek omlaag en voelde wat hij voelde toen hij daar aan het kruis hing. Dit was geen kruisiging, dit was een transformatie in een andere dimensie, van pijn. lijden en dood naar leven.
Vergeving voor alles wat er gebeurd was, een totale overgave in het nu, in dit moment.
Mijn hart stroomde vol met liefde. Het was een openbaring, een diepgaande ervaring. Mijn geliefde Delilah en Erica haar geliefde Daniel stonden onder het kruis. Hetzelfde als in zijn tijd: zijn moeder, zijn geliefde Maria-Magdalena en zijn favoriete leerling Johannes.
Op deze wijze zette ik een volgende stap in het proces van mezelf accepteren en de realisatie dat ik een onderdeel van God ben.