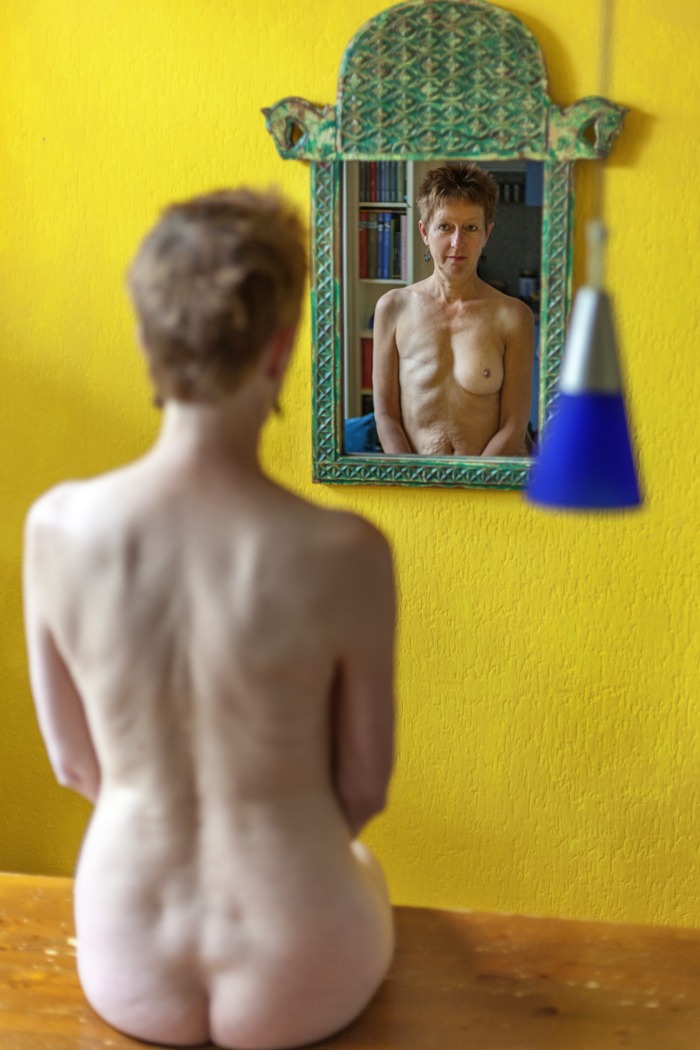 Introduction
When I heard about the Embody Project, I was immediately moved by the pureness, strength and openness of the people in Erica's special photos. I was also moved deeply by her message and the aim of her project. I slept one night over it and decided to participate.
Nine years ago I was very healthy and strong. I was working as an independent artist and teacher of creative techniques in a centre for sick people. Because of my work, I decided to donate my blood for the blood-bank. Unfortunately they discovered that I was very ill; I had hepatitis C. The virus had already made a lot of damage in my body. For me that was a big shock, because I didn't feel sick at all. Because of the damage done by the silent killer, it was necessary to get a very tough medical treatment: a cure with interferon, comparable with a chemo-cure.
I started with the medication and became very sick. After a six month treatment I was cured for hepatitis, but my body was very damaged by the medication. Because of a rare side effect of the medication, I now had an autoimmune disease called sarcoidosis. The consequence of this disease in my life is: damaged small fibres (neuropathy), limited energy, daily pain in my body, a lot of inflammations in my body and losing my wonderful job in the healthcare field.
During the last few years it's getting better with the inflammations and my energy. I had made a new start in my life, by working as a volunteer in the hospital as a member of the team that makes television programs for sick children. Very joyful and inspiring work! I felt good in my body, I had adapted the illness in my life and I enjoyed my life. Unfortunately again they discovered two and a half years ago breast-cancer. And again I had the experience that I was very ill, while I was feeling very good. Two weeks after the diagnosis my left breast was removed by operation.
Besides the illnesses, I have had a lots of fun and special moments with my body.  For example the birth of my son, the breastfeeding, the love in my life. I enjoy doing things together with friends, painting, writing, walking, roaming in nature. It's delicious to feel the wind blowing on my skin, to listen to music and dance with it.
My reason to participate
My body is my temple, my spirit's house. I always have felt very strong, healthy and positive. I always have believed that I can do everything I believe in. I feel betrayed by my body, because I haven't felt both times that there was something wrong. My body didn't give me signals of warning for the hepatitis and the cancer.
They are both hidden killers in silence. But I like my body as it is. However, because of the medication for the breast cancer (hormonal therapy) and the loss of confidence in my body, my spirit sometimes walks a part of the days in the dessert.
Losing one of my breasts was difficult and sad, but facing my mortality was a harder and uncomfortable confrontation. My body feels fragile, but my lust for life is still strong. With participating in the project I want to show my female strength, my dignity, my softness, my humour, my pureness, my support to all people who have lost a part of their body or mind. I am aware of the restriction of my lifetime; for that reason I want to use my days in an optimal way. I don't have a problem with being naked. A naked human being is natural and pure, we are all born naked. Every body, sick or healthy, has his/her own beauty.
Besides all this, I was curious about Erica and about the experience being a model in a part of an international artwork. Participating gave me the opportunity to be the subject in a composition, for the first time in my life. Normally I am the one who is placing the figures in an artistic context.
About the photo shoot
I like to cook and eat together with people; while we enjoy our meal and richly share philosophy about life. Eating together, for me, symbolizes taking physical and spiritual food. Both are important in life.
The writer Franz Kafka has said:
"Sitting at the kitchen table, the things of life will reveal themselves."
I feel good by that pronunciation. The kitchen is the heart of the house, the motor of all life. While doing the dishes together, you often have the best conversations and reflections of yourself and each other. Because of my small house, my kitchen table resides in my living room. I use it for everything that is important: eating, talking, discussing, thinking, working, relaxing. That's why I liked to sit on the table for the photo shoot. The mirror was soon part of the plan. It gave me the opportunity to reflect upon myself, to accept my acquired scars and to heal them.
I felt very comfortable with Erica and we had fun during the shoot. The late morning light and the eye of her camera sliding over my skin, searching for the right composition and illumination. I felt like a model in a painting of Paul Gauguin, pure of shape and strong. In my head played Chaka Khan's beautiful song: 'I'm Every Woman, it's all in me," and it felt good. Kafka was right; when you just sit yourself quietly down, the things of life reveal themselves!
Introductie
Toen ik kennis maakte met het Embody Project, was ik meteen geraakt door de puurheid, de kracht en de openheid van de mensen op Erica's bijzondere foto's. Ook haar boodschap en het doel van haar project raakte me diep. Ik sliep er een nacht over en besloot tot deelname.
Negen jaar geleden was ik een gezonde, sterke vrouw. Ik werkte als zelfstandig kunstenaar en gaf les in creatieve technieken, op een dagbestedingscentrum voor mensen met een lichamelijke beperking. Vanwege mijn werk besloot ik om mij aan te melden als bloeddonor. Bij controle van mijn bloed ontdekte ze het hepatitis C virus. Ik bleek dat al jaren in mij mee te dragen. Dat was een enorme shock, aangezien ik me helemaal niet ziek voelde. De sluipmoordenaar had echter al veel schade aangericht in mijn lijf, daarom was een medische behandeling nodig met interferon. Een zware behandeling van een half jaar, vergelijkbaar met een chemokuur.
Ik werd erg ziek van de medicatie. Na de kuur was ik genezen van de hepatitis. Vanwege een zeldzame bijwerking van de interferon had zich helaas een auto-immuunziekte ontwikkeld; sarcoïdose. De gevolgen daarvan op mijn leven waren fors: dunne vezel neuropathie, beperkte energie, dagelijks pijn met veel ontstekingen in mijn lijf en het verlies van mijn fijne baan. De laatste jaren gaat het beter met de ontstekingen en mijn energie. Ik maakte een nieuwe start in mijn leven, door vrijwilligerswerk te doen bij een tv-station voor kinderen in het ziekenhuis. Mooi en inspirerend werk! Ik voelde me weer goed in mijn lichaam, had de ziekte geïntegreerd in mijn leven en ik genoot van alles. Helaas ontdekte ze bij een controle twee en een half jaar geleden borstkanker. Opnieuw had ik de ervaring dat ik ernstig ziek bleek te zijn, terwijl ik me eindelijk weer goed voelde. Twee weken na de diagnose werd mijn linker borst verwijderd.
Buiten deze vervelende ziektegeschiedenis heb ik veel plezier en speciale momenten beleefd met mijn lichaam. Zoals de geboorte van mijn zoon, het geven van borstvoeding, de liefde in mijn leven. Ik geniet van samen mooie dingen ondernemen met vrienden, schilderen, schrijven, wandelen, struinen door de natuur. Het is heerlijk om de wind te voelen blazen over mijn huid, naar muziek te luisteren en daarop te dansen.
Reden van deelname
Mijn lichaam is de tempel van mijn geest; ik heb me er altijd sterk, gezond en positief in gevoeld. Ik ging er van uit, dat je alles kunt doen en bereiken waarin je geloofd. Door de hepatitis en de kanker voel ik me echter verraden door mijn eigen lijf. In beide gevallen voelde ik me juist goed toen het ontdekt werd. Mijn lichaam gaf me geen waarschuwingssignalen. Toch houd ik van mijn lichaam, zoals het is. Alleen zorgt de bijwerking van de hormoontherapie, vanwege de borstkanker, ervoor dat mijn geest soms delen van de dag door de woestijn loopt. Een van mijn borsten verliezen was moeilijk en verdrietig, maar veel zwaarder was de confrontatie met mijn eigen sterfelijkheid. Mijn lichaam voelt fragiel, maar mijn lust om te leven is sterk.
Met mijn deelname wil ik mijn vrouwelijke kracht terug vinden, mijn waardigheid tonen, mijn zachtheid, mijn puurheid, mijn steun betuigen aan alle mensen die een deel van hun lichaam of geest zijn verloren. Ik ben me bewust van de beperkte houdbaarheid van mijn levensduur; daarom wil ik mijn dagen zo optimaal mogelijk benutten. Met naaktzijn heb ik geen problemen. Een naakte mens is natuurlijk en puur; we worden allemaal naakt geboren. Ieder lichaam, ziek of gezond, heeft zijn/haar eigen schoonheid.
Daarnaast was ik nieuwsgierig naar Erica en naar de ervaring om als model onderdeel te zijn van een internationaal kunstproject. Het gaf me gelegenheid om voor het eerst in mijn leven eens zelf het onderwerp in de compositie te zijn. Normaal gesproken ben ik degene, die mijn figuren in een kunstzinnige context plaatst.
Over de fotosessie
Ik houd van koken en samen eten; van onder het genot van een maal rijkelijk filosoferen over het leven. Samen aan tafel gaan staat voor mij symbool, voor het samen nuttigen van fysiek en geestelijk voedsel. Beiden zijn belangrijk in het leven. De schrijver Franz Kafka zei eens:
"Zittend aan de keukentafel, openbaren de dingen van het leven zich vanzelf."
Ik kan me helemaal vinden in deze uitspraak. De keuken is het hart van het huis, de onmisbare levensmotor. Wanneer je er samen de afwas doet, ontstaan vaak de beste gesprekken.
Vanwege mijn kleine huis, staat mijn keukentafel in de huiskamer. Ik gebruik hem voor alles wat belangrijk is in mijn leven; eten, werken, praten, denken, relaxen. Voor de fotosessie wilde ik daarom op de tafel. De spiegel kwam vanzelf in beeld en gaf gelegenheid tot zelfreflectie, om de opgelopen wonden in mijn leven te accepteren en te helen. Ik voelde me op het gemak bij Erica en we hadden plezier tijdens de sessie. Het late ochtendlicht en het oog van de camera gleden over mijn huid, opzoek naar de juiste compositie en belichting. Ik voelde me als een model in een schilderij van Paul Gaguin, puur van vorm en sterk.
In mijn hoofd speelde Chaka Khans prachtige nummer: "I'm every women, it's all-in me," en dat voelde goed. Kafka had gelijk; wanneer je rustig gaat zitten , openbaren de dingen van het leven zich vanzelf!