I'm honored and excited to be co-facilitating this event in Asheville NC with such diversely talented women! Kicking off National Eating Disorders Awareness Week, we will explore our multi-faceted experience of embodiment in the reverent presence of select large-format prints from the now-traveling Embody Project gallery show.
Space is limited to 20 to hold an intimate and intentional space, and registration is open through Wed 2/21. Come join us if you're in the area!
More info here: http://www.thecenternc.org/events.html
And here: https://www.facebook.com/events/734159900117891/
Tickets available here: https://itsaninsidejob.brownpapertickets.com/
The Embody Project Gallery Show opens TODAY – Dec 1, 2017!
Featuring an innovative combination of life-size prints on fabric and composite image + text panels, the exhibit brings to life the Embody Project's courageous images and empowered stories of participants from all walks of life, and invites you to shine the light of awareness on your own relationship with your body.
The Embody Project BOOK Is Here!
Visit the Book page for more details and to order.
---
THE EMBODY PROJECT IS GOING GLOBAL!
We are traveling outside the US for the first time, and will be in Netherlands in June 2014!
If you are ready to step into a transformational process of loving yourself and your body right now unconditionally,
this is your chance.
We'll be conducting the Embody Project: Netherlands as an experience that includes:
An interactive evening workshop that will incorporate guided, individual and shared reflection through writing, movement, sound healing, discussion and more

A photo shoot with Erica in an environment that resonates with you

Your written reflection about the experience (in the form of a statement, essay, poem, etc.)

Your photo and written reflection published together on the Embody Project website.
*Please note: due to the amount of focused time and energy that goes into the Embody Project experience for each person, space is limited to 20 participants in the Netherlands.
To celebrate the Embody Project's first trip outside US, we're excited to offer the Embody Project: Netherlands experience for €125.
To register for the Embody Project: Netherlands experience, please fill out the form on the contact page, specifying your interest in registration.
Gratitude to Daniel Barber, David Miller, Becky Boisvert, Sanne Schijven, and Cindy Bucher for your immense support.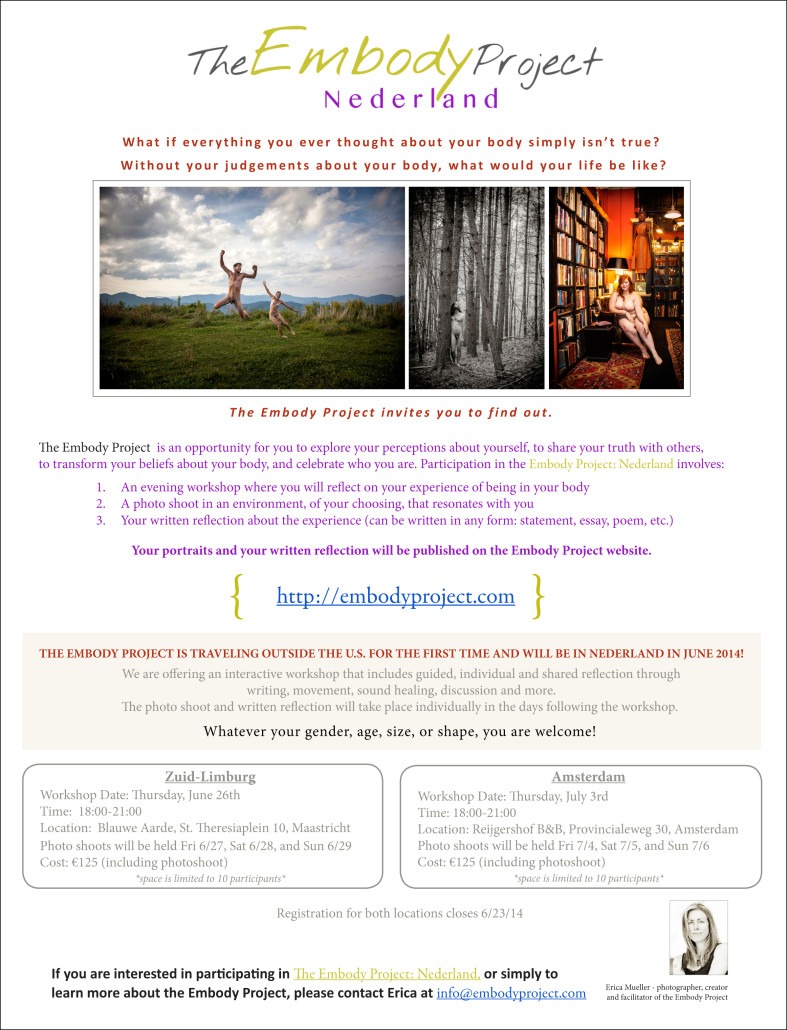 _______________________________________________________________________________________________
January, 2014
Welcome to the new Embody Project website!
Thanks to David Bentley at ZeroZen Design for his hard work and expertise.
Also a big thanks to all of you who have given valuable feedback along the way.
_______________________________________________________________________________________________
Embody Project News, February 2014: 
The Embody Project's rapid expansion began in October 2013, when, much to my surprise and delight, there were over 200,000 views on the original Embody Project website within 3 weeks.  Since then we've been receiving emails from people around the world full of love and support for this powerful work.
Thank you for the overwhelming positive feedback!  I'm happier than ever to be doing this work and for it to be seen and appreciated by so many.
I'm excited to share that the Embody Project is now working with an incredibly talented production team (aka the Dream Team), to create a short video showcasing the Project for our upcoming crowdfunding campaign, which we plan to launch in 2014.
We're raising money to develop and implement the next iterations of the Embody Project (a feature-length documentary, a new transmedia website, a short video series, books, traveling gallery shows), all of which entail taking The Embody Project to locations around across the U.S. and around the world with a film crew, expanding the scope of the Project and showing the impact the Project is having on people worldwide.
Please stay tuned to this page, and sign up for the email newsletter for more info as it becomes available.
Click here to add your own text