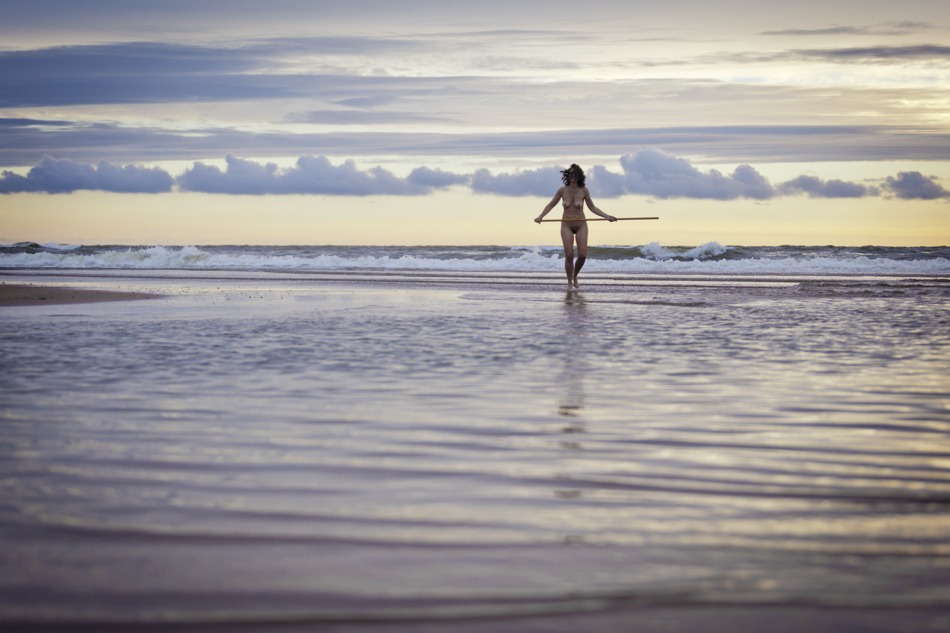 The day
Clouds were gone
Rain stopped
The sky was turning purple and blue
And I was there, pure & naked
The start
I started my Tai Chi Stick
to comfort myself
to BE at the land's end, on the crossing
of land & sea, water & air, air & earth
I was there
Totally in balance and perfectly fine.
For a while
Lens to be changed
Zoom in, Zoom out
Silence is there
A little boredom, ………………, creativity comes
I turned
Around and around and around
Magic & Wild
Time to move forward
I started my Tai Chi Stick
My feet in the water, nice and cool
Unbalanced and muddy
Losing control
Out of the flow
And the sun is still there
And I,
I am perfectly fine
Before
Yeah, there was something about fear
To be seen by my friends, my family, my colleagues, my neighbours
Oh No
What will they say?
I will know it one day
Because
I was there, standing with my stick, naked
On the crossing of of land & sea, water & air, air & earth
My fire inside, the fire of life
Afterwards
No words, I said
And the Silence was broken
I stood up and walked into the world
Breathing fresh air
Life Energy
In abundance
My Fire inside
I really recommend playing with sticks! Especially naked on the beach.
Xandra
POST SCRIPT
Fear is the future
Writing this piece
What may they think?
Revealing my Soul
That will be next
New horizons
To be discovered
It might be with you
De dag
De wind waaide de wolken weg
De lucht kleurde
Roze, blauw en een flintertje geel
En ik was daar, puur en naakt
De start
Daar stond ik dan
op het strand
Mijn stok en ik, helemaal alleen
Mijn stok om te slaan
te verdedigen
Mijn stok om te staan, te staan als een boom
Mijn stok als steun
Mijn stok om te dansen
De dans van het leven
Mijn stok en ik, samen een
Voor even
De lens van de camera wisselt
Zoom in, Zoom out
De stilte is daar
Verveling ontstaat, ………………,
Even niets verwordt tot de creatie van iets
De stok en ik, ik draaide en draaide en draaide
Magisch verbonden
Met het grote geheel
Wild, wijds & wonderful
Momentum
De volgende stap
Daar stond ik dan, mijn voeten in het water
De stok en ik, in de dans van het leven
Water stroomt
Het zand kriebelt onder mijn voeten
Wiebelig
Wonderlijk
Wonderlijk fijn
Daar op het strand, zo in balans met de onbalans
De zon schijnt en de wind waait
En ik
Ik ben
Van te voren
Ja, daar was iets van angst
Angst om gezien te worden
Angst voor de afwijzing
Wat gaan ze zeggen?
Of nog erger, ze zeggen niets
Helemaal alleen, dat is de angst
Misschien valt het mee
Ik ga het weten
Want ik was daar, daar
op het strand
samen met mijn stok, puur en vrij
Vol energie, vurig en warm
Na afloop
Geen woorden, zei ik
De stilte brak
Ik stond op en stapte in de wereld
Ademend
Frisse lucht
Weelde
Een oneindige warmte
Spelen met 'n stok, zo naakt daar op het strand
Ik kan het aanbevelen
Xandra
Post Script
Dit was het NU
NU, NUDE, Naakt
Lichaam
De volgende stap
Het ontblooten van de ziel
Fileermesje en een grote lamp
De ziel in het licht zetten
Ik ben zo nieuwsgierig
Wat ga ik ontdekken?
Als ik mijzelf zie, kan ik jou zien
Pas dan
Puur en vrij
Echt